Art fair「Art Basel Miami Beach」
December 1, 2022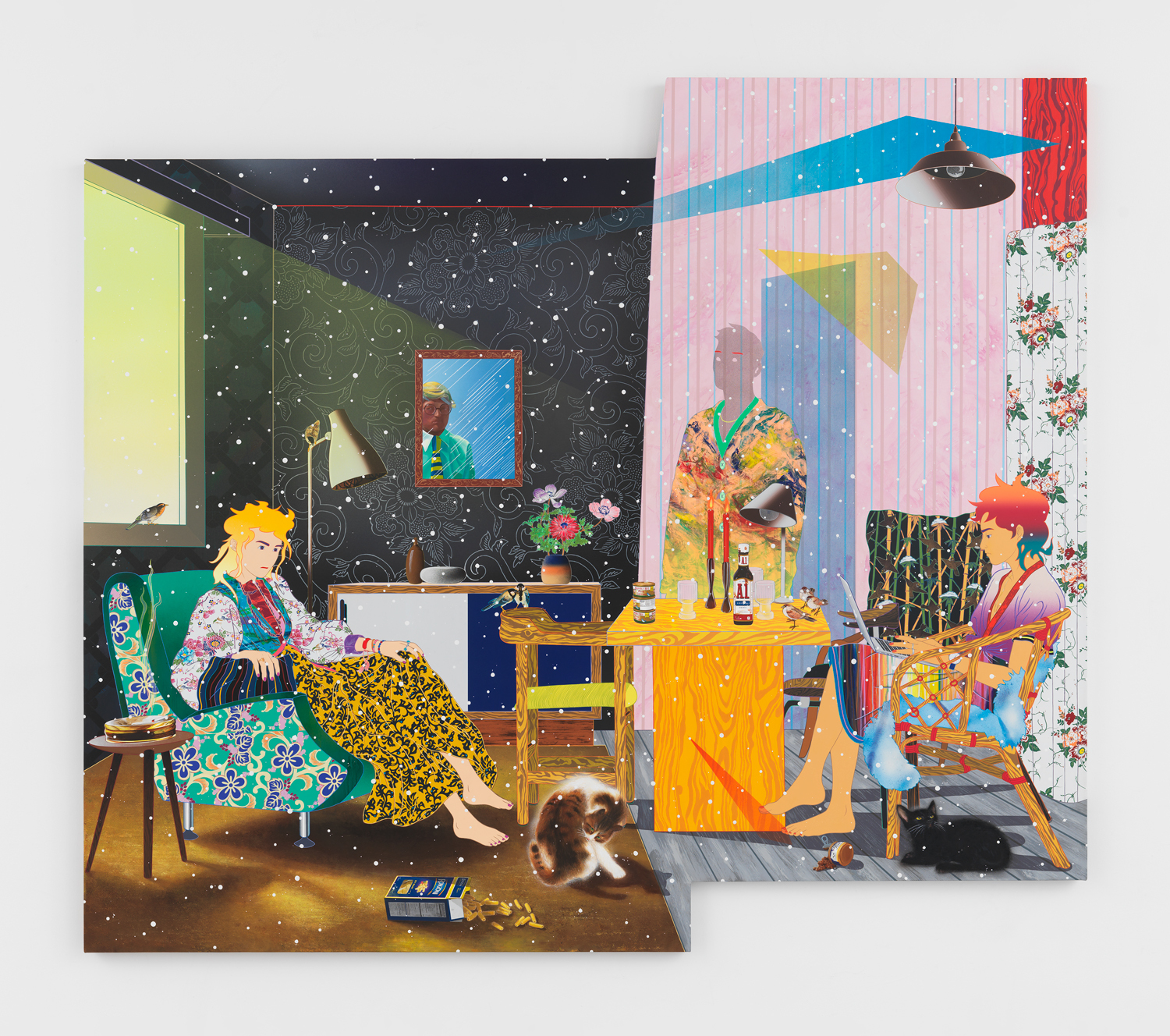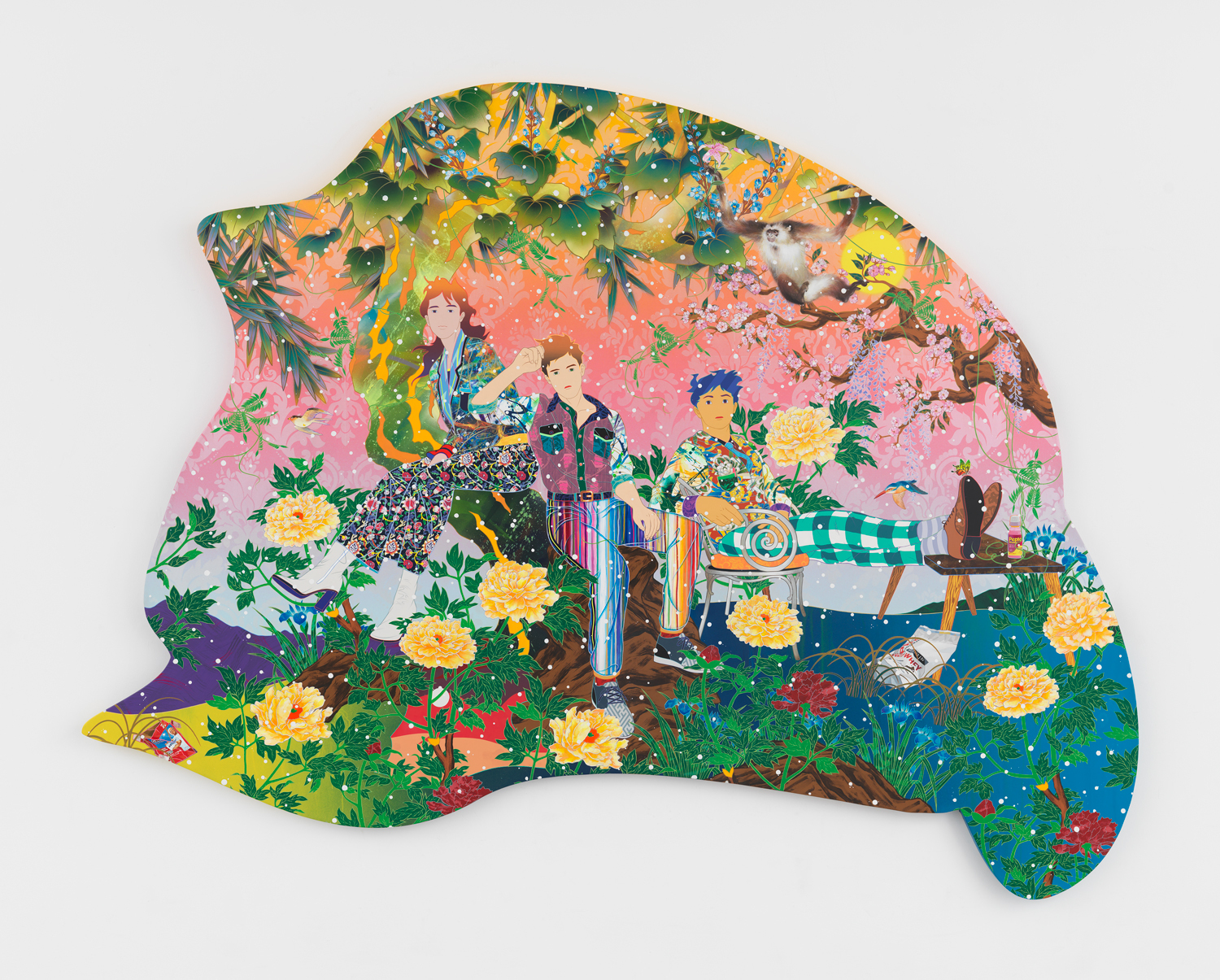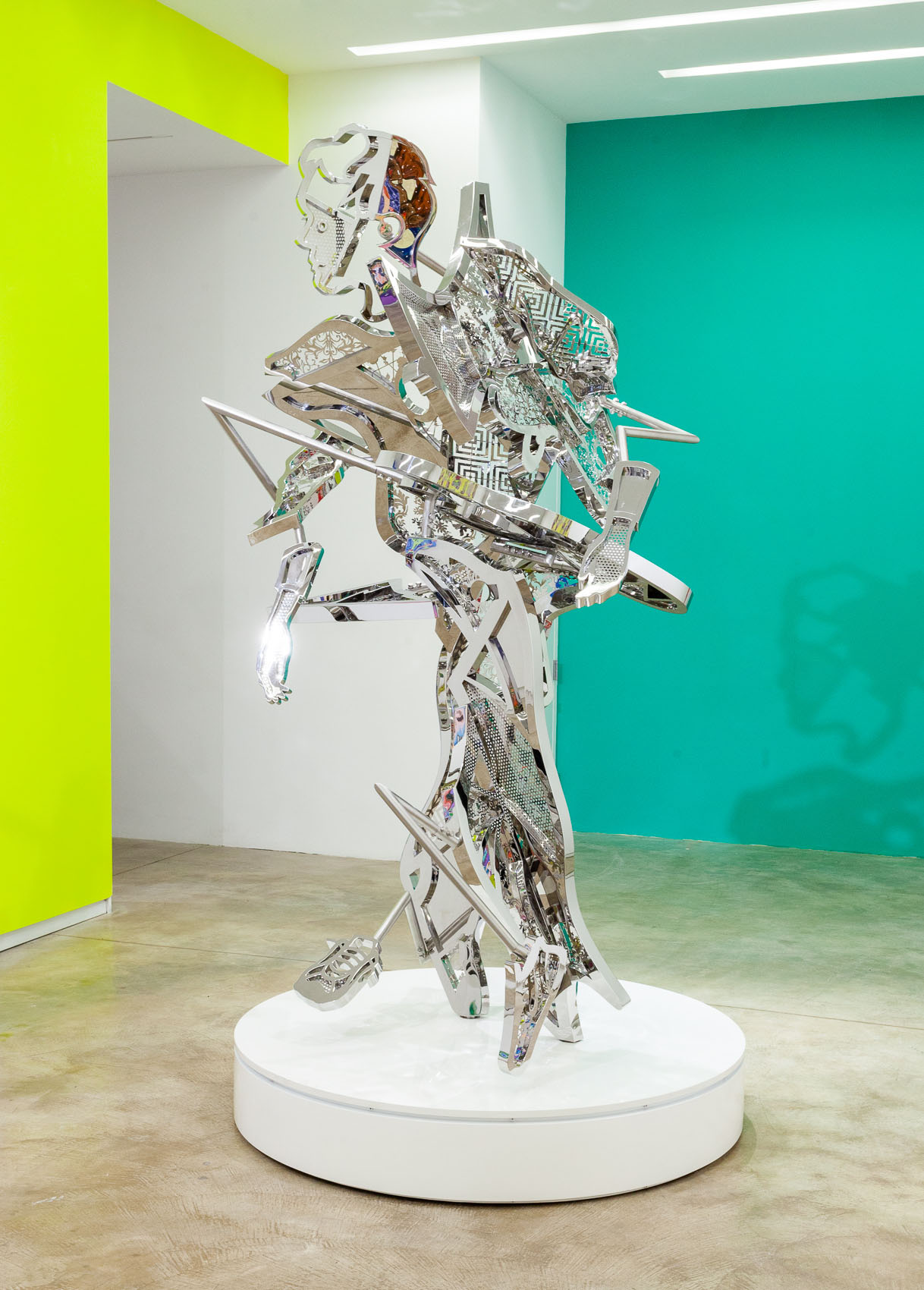 Matsuyama Studio is pleased to announce our presentation with two galleries at Art Basel Miami Beach with Almine Rech and Kavi Gupta.

On the occasion of Art Basel Miami Beach, Almine Rech will present a group exhibition featuring paintings and sculptures by a selection of multicultural artists and estates, reflecting the gallery's artistic diversity.

Kavi Gupta, a leading contemporary art gallery will present Matsuyama's sculpture and paintings within the gallery booth and Kabinett section. The prettified figures in this new series of paintings by Matsuyama are literally draped in art history. Emanating the warmth of shared experience, they leisurely occupy hypnotic dream worlds where nature and the built world coalesce. As if awakening from the surfaces of the paintings, the figure depicted in Runner, Matsu's newest mirrored metal sculpture, literally invites us to peer inside of its glittering, multitudinous reality. Matsu hopes we will recognize ourselves reflected in this dynamic, undulating form, if not from our memories then from our aspirations or dreams. Matsu's pictorial accomplishment lies in his exquisite talent for distilling mass culture, global history, and individual identity into unmistakable visions of nowness. His hyper-layered visual language honestly faces the confusion and clutter of our time, while simultaneously reveling in magic and arguing for optimism.

PUBLIC DATES
December 1 Thu - December 3 Sat

ADDRESS
Miami Beach Convention Center
1901 Convention Center Drive
Miami Beach, FL 33139
Art Collaboration Kyoto (ACK)
November 18, 2022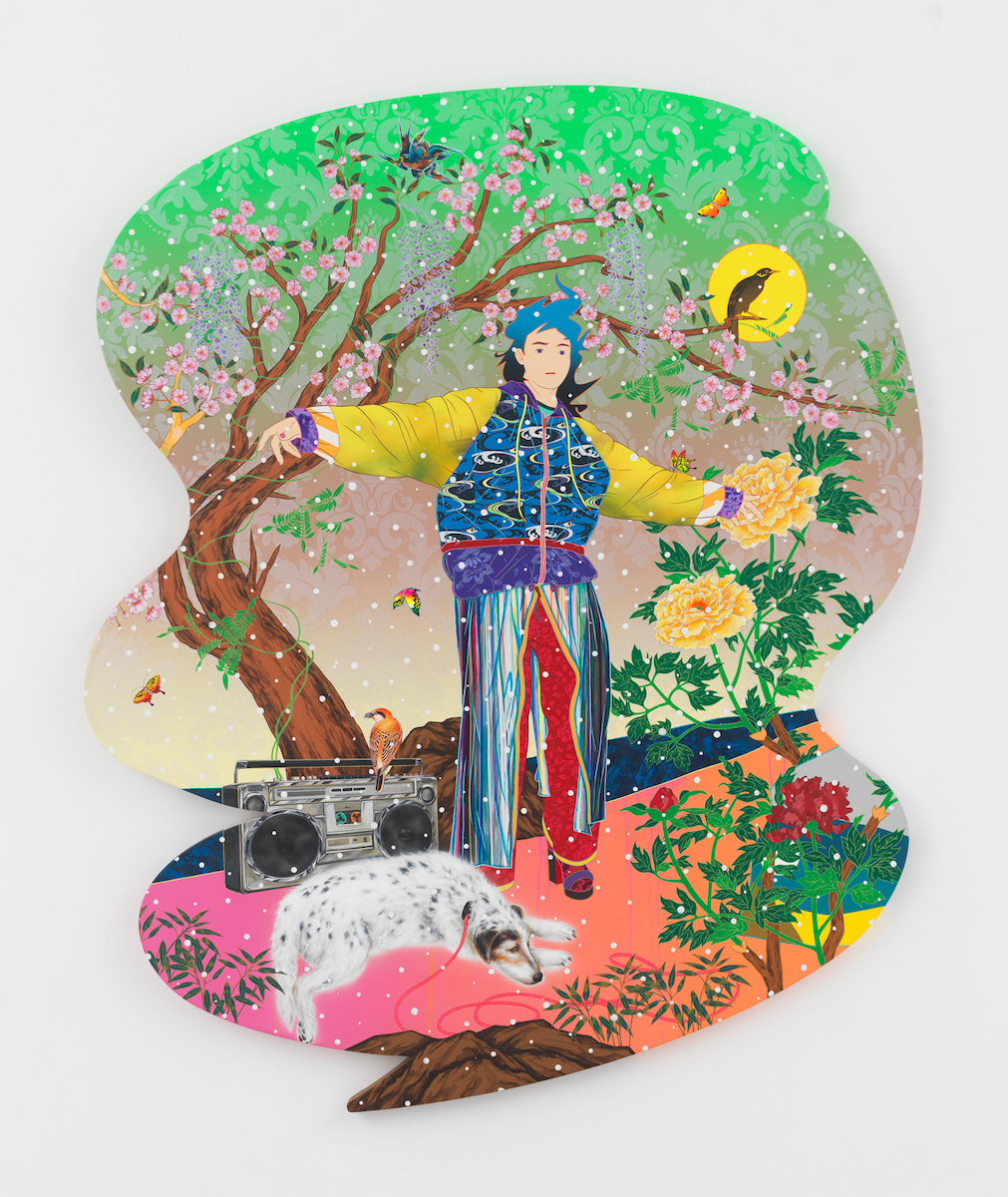 Matsuyama Studio is pleased to announce our presentation at 'Art Collaboration Kyoto (ACK)', an art fair themed on "contemporary art and collaboration" to be held in Kyoto with collaboration of KOTARO NUKAGA.

KOTARO NUKAGA will be exhibiting with Chicago-based Kavi Gupta, and the art fair will show works by a variety of artists from both inside and outside of Japan, starting with Matsuyama who works with both galleries.

Art Collaboration Kyoto (ACK) is one of the largest art fairs in Japan specializing in contemporary art, and is unique in the collaborations it forges between Japanese and international galleries, government and private sectors, and the fine arts and other fields. The main venue, Kyoto International Conference Center, will consist of two sections, "Gallery Collaborations" and "Kyoto Meetings," where works will be exhibited and sold. In addition, special exhibitions planned by newly appointed Program Director Yukako Yamashita will be held in Kyoto City, and a number of satellite programs are scheduled to coincide with the holding of ACK.

ARTISTS
KOTARO NUKAGA: Tomokazu Matsuyama, Tomona Matsukawa, Keita Morimoto, Joel Mesler
Kavi Gupta Gallery: Roger Brown, Beverly Fishman, Devan Shimoyama

PUBLIC DATES
November 18 Fri - November 20 Sun
ADDRESS
Kyoto International Conference Center Event Hall
Takaragaike, Sakyo-ku, Kyoto 606-0001 Japan
Art Basel Paris+
October 19, 2022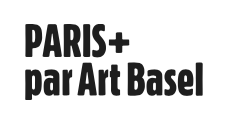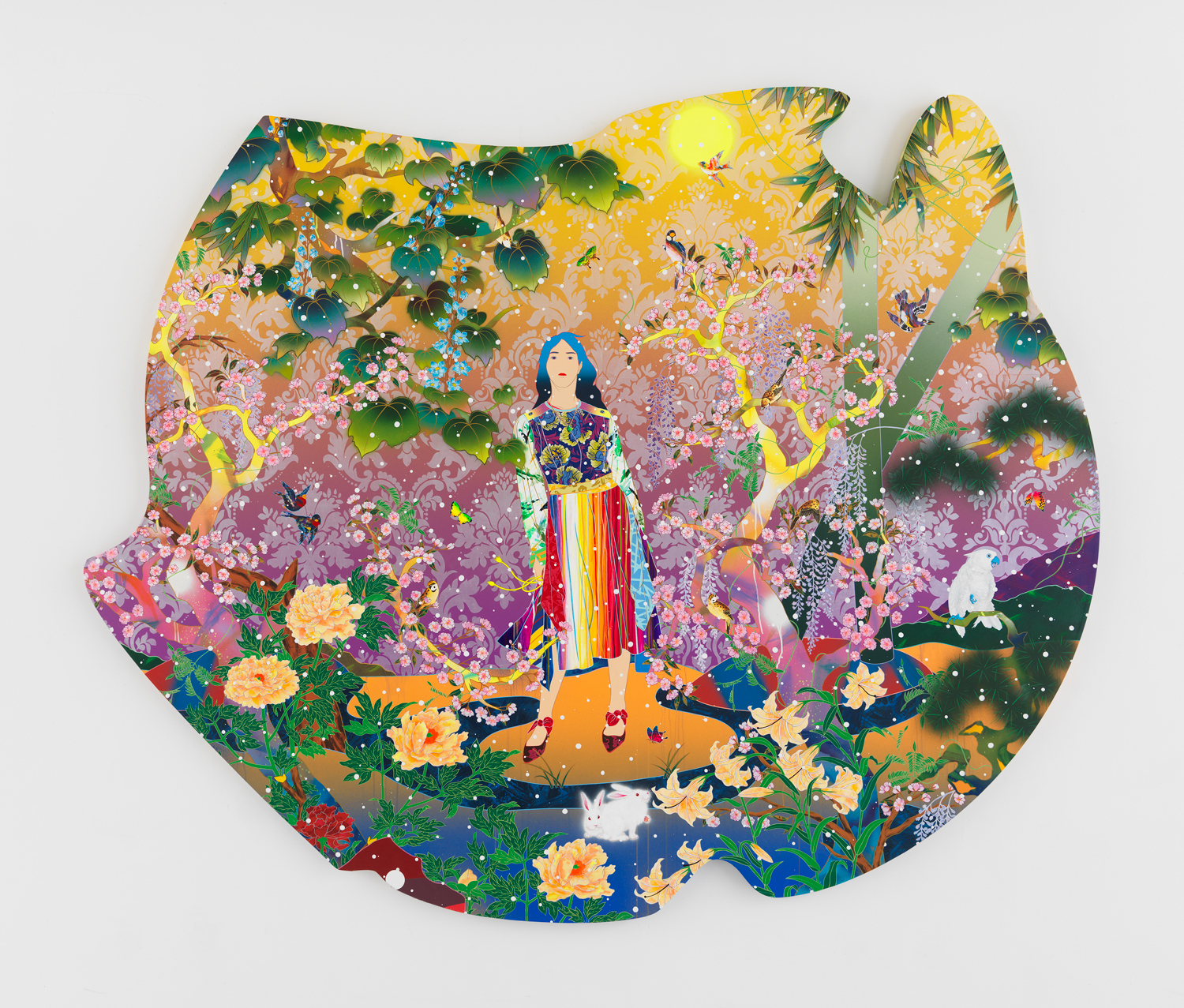 Tomokazu Matsuyama Studio is pleased to announce his presentation at Art Basel Paris+.
On the occasion of Paris+ by Art Basel 2022, Almine Rech will present a group show composed of a selection of key artists and estates in dialogue with a range of multicultural artists, reflecting the gallery's artistic diversity.

ARTISTS
Gioele Amaro, Farah Atassi, Matthias Bitzer, Andrea Marie Breiling, Javier Calleja, Brian Calvin, Alejandro Cardenas, Ha Chong-Hyun, Johan Creten, Paul de Flers, Jorge Galindo, Jonathan Gardner, Mehdi Ghadyanloo, John Giorno, Gregor Hildebrandt, Ryoji Ikeda, Alex Israel, Carlos Jacanamijoy, Marcus Jahmal, Scott Kahn, Minjung Kim, Leelee Kimmel, Tali Lennox, Alexandre Lenoir, Tomokazu Matsuyama, Tursic & Mille, Ted Pim, Otis Kwame Kye Quaicoe, Umar Rashid, George Rouy, Ryan Schneider, Hajime Sorayama, Claire Tabouret, Thu Van Tran, Kim Tschang-Yeul, Amanda Wall, Tom Wesselmann, Chloe Wise and Ji Xin.

PUBLIC DATES
October 19 Wed - October 23 Sun
ADDRESS
Grand Palais Éphémère | Booth A05
2 Place Joffre, 75007 Paris, France
Public art project
September 17, 2022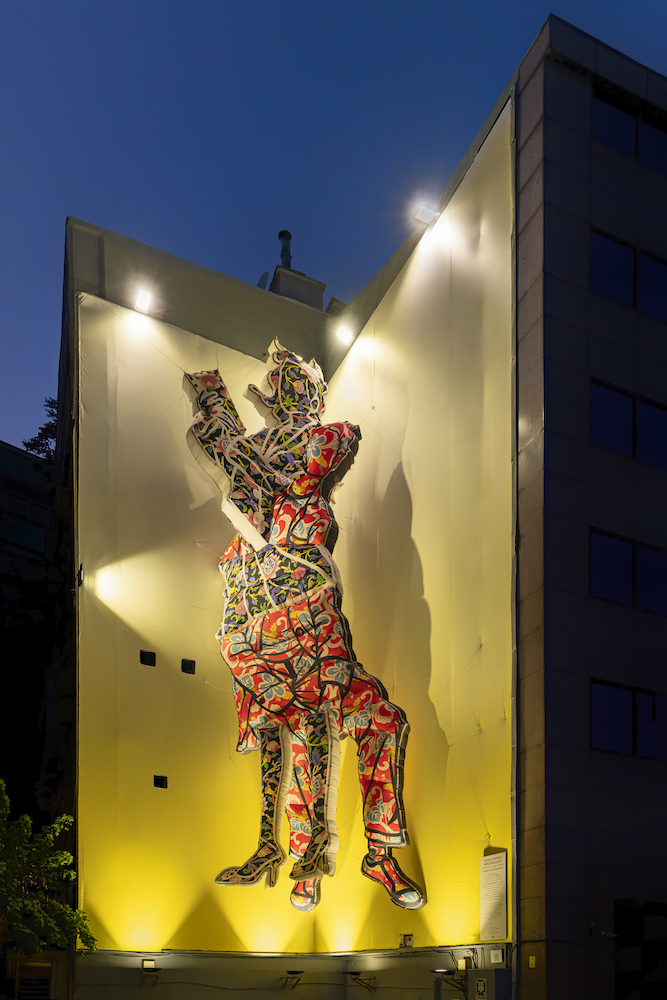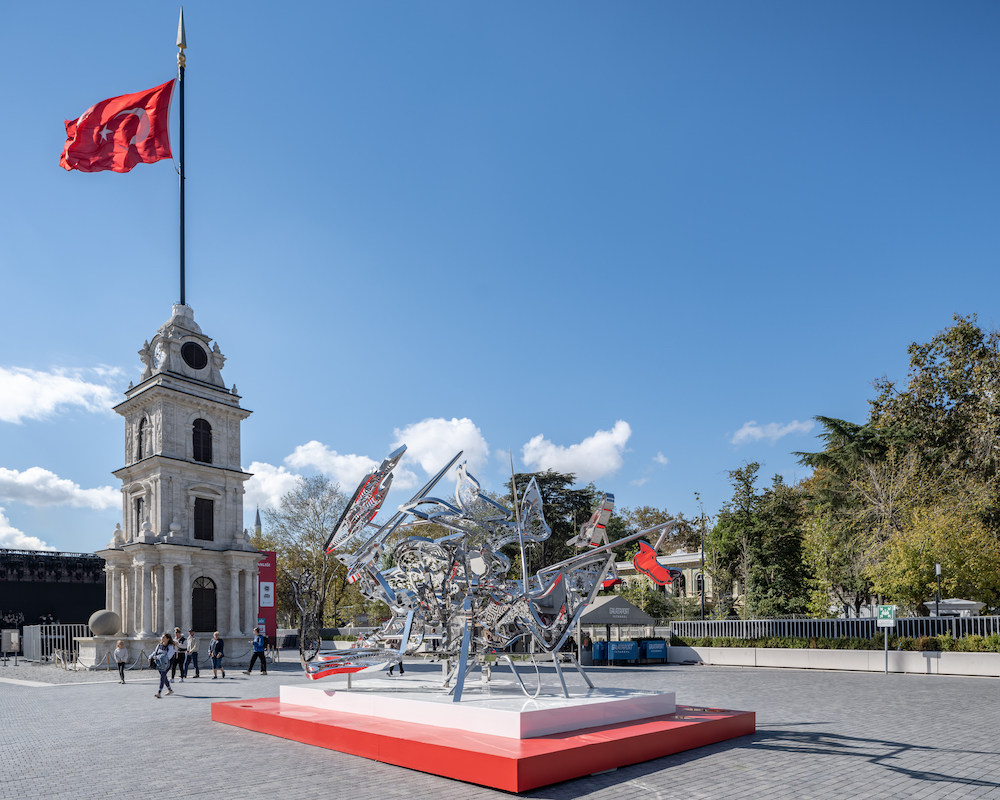 Tomokazu Matsuyama Studio is pleased to announce his public projects United We Stand Divided and Nirvana Tropicana in collaboration with Yanköşe and Galataport. Both large scale sculptures by Matsuyama were exhibited upon invitation by IKSV as an official collateral project to the 17th Istanbul Biennial.
For Yanköşe, Matsuyama re-imagines his sculpture He Sits She Reads (2021) as a large installation. For Istanbul, the city facing daily flow of people from different cultures, the artist expresses his perception on the blend of gender and cultural indicators in the moment of multiplication of identity of new generations. The 17-meter-long work United We Stand Divided depicts two intertwined figures that are composed with historical decorative floral patterns representing East and West. Istanbul: the city with a history composed of mixture of multiple cultures. And the combined portraits of two persons morphing diverse identities, hover in the cityscape as a reminder of how layered the contemporary culture is.

At the Museum Square at Galataport, Matsuyama places his Nirvana Tropicana (2020) sculpture he created in the midst of the natural catastrophes, Covid19 and windstorm, that hit New York city in row. Due to lockdowns, the city never sleeps seemed deserted, civilization ceased operating, culture wasn't active, and nature was collapsing. Facing these realities, Matsuyama feels the weight of having to rebuild endlessly. This relentless internal drive is being portraited with body fragments knotted with vegetal elements and patterns, creating plurality of viewpoints that could be described as Cubist.

PUBLIC DATES
September 17 Sat - November 20 Sun
ADDRESS
Yanköşe
Ömer Avni MahallesiMeclis-i Mebusan CaddesiTütün Han No:85Kabataş 34427Beyoğlu / İstanbul
Galataport
Kılıçali Paşa Mah. Meclis-i Mebusan Cad. No: 8 İç Kapı No: 102, 34433 Beyoğlu/İstanbul
Art fair「Friez Seoul
September 2, 2022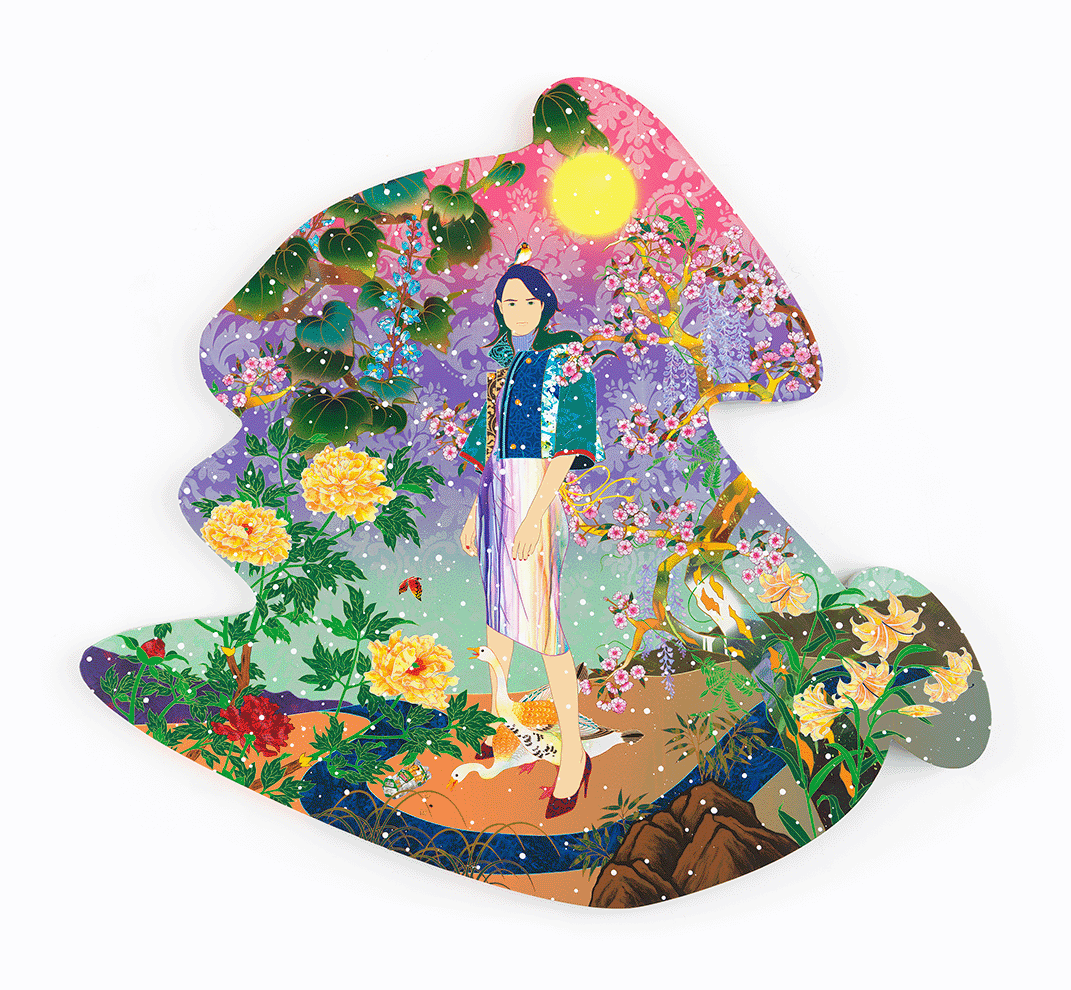 Tomokazu Matsuyama Studio is pleased to announce his presentation at the art fair Frieze Seoul with LGDR Gallery from Sep 2nd - Sep 5th. For the fair's debut in Korea, LGDR will present new and recent works by an intergenerational group of artists complemented by rare historical masterworks selected for the occasion. Among the artworks on view will be never-before-seen objects spanning mediums, juxtaposed in ways that reflect the expertise and passion of LGDR's founding partners. The gallery will exhibit a curated selection of works from its booth in the online Frieze Viewing Room.

EXHIBITION DETAILS

ARTISTS: Tomokazu Matsuyama, Marina Adams, Enrico Castellani,Francesco Clemente, George Condo, Lucio Fontanta, Seung-taek Lee, Amani Lewis,Joel Mesler, Alexis Ralaivao, Sean Scully, Lorna Simpson, Pierre Soulages, Pat Steir,Mickalene Thomas, Tu Hongtao, Günther Uecker, and Zhang Zipiao.

BOOTH: C2

VIP Preview
Sep 2, (Fri) 17:00 -
Public Open
Sep 3, (Sat) 13:00-16:30
Sep 4, (Sun) 13:00-16:30
Sep 5, (Mon) 13:00-16:30

Location
COEX
513 Yeongdong-daero, Gangnam-gu, Seoul, South Korea
HK Drop
Jun, 2022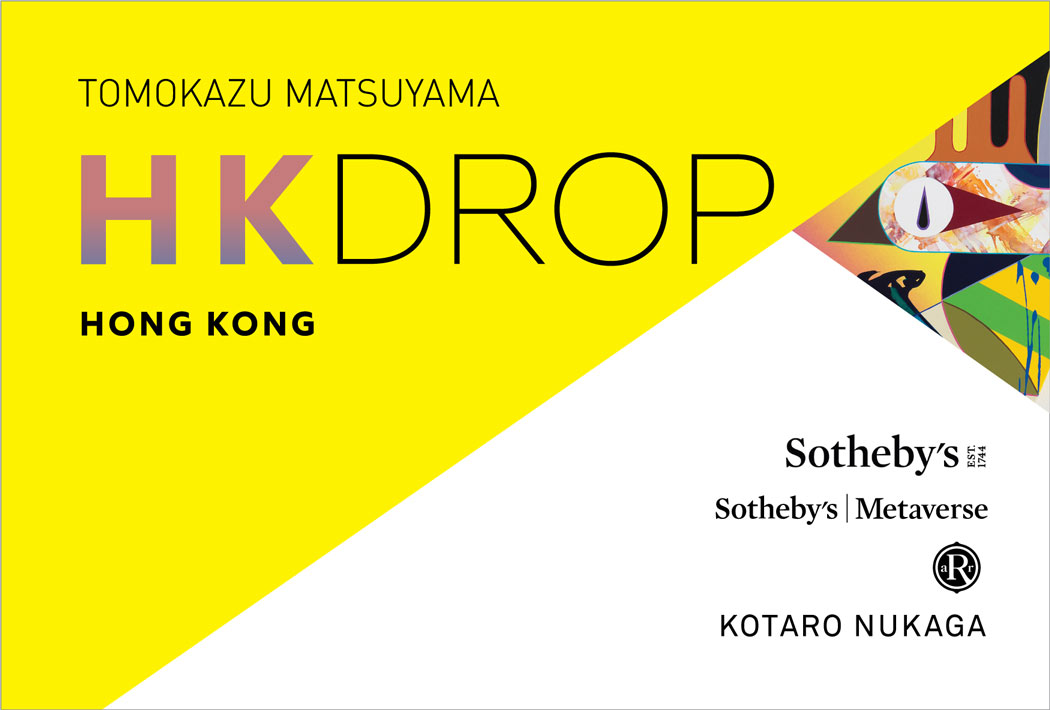 Project announcement

" HK Drop"

Presented by:
Sotheby's HongKong
AllRightsReserved
KOTARO NUKAGA

Matsuyama Studio and KOTARO NUKAGA is pleased to announce that we will be partnering with one of the world's leading auction houses Sotheby's Hong Kong and SK Lam's global creative studio AllRightsReserved (ARR) to present "Tomokazu Matsuyama: HK Drop".This collaborative project will see New York-based Japanese artist Tomokazu Matsuyama take over Hong Kong, one of the cities at the heart of the art world. Starting off with a solo exhibition at Sotheby's Hong Kong showcasing all new paintings alongside his first ever NFT artworks, Matsuyama's impactful debut in the realm of the Metaverse will be followed up by the release of a special limited edition sculpture created in collaboration with ARR.

Matsuyama's solo exhibition "Harmless Charm" will be held at Sotheby's Hong Kong Gallery from June 14 to 21. Featuring 13 new paintings, the show also marks the artist's first foray into NFTs with 9 new NFT digital artworks. Combining techniques and aesthetic principles from the East and West with motifs from contemporary consumer culture to depict the "global identity" of our current society, Matsuyama's works have been highly acclaimed and are coveted by many collectors around the world. This exhibition presents a comprehensive overview of Matsuyama's latest works, featuring works from 4 of his painting series, including "Fictional Landscape" and "Abstract". Three of Matsuyama's painting series- "Fictional Landscape," "Abstract," and "Equestrian"- have also been transformed into digital videos that will be presented as 3 unique and 6 limited edition NFT artworks. "Where did we come from, and where are we going?" This question is embodied by these works, which, for Matsuyama, are a portrayal of reality and a depiction of the ambiguity and elusiveness of contemporary society. This digital space, intentionally superficial and steeped in transience, immerses the viewer's emotions. The artist's first attempt at digital art showcases his uncompromising creativity in a variety of mediums.

On June 16, ARR will present Tomokazu Matsuyama's latest special limited edition sculpture. In this three-dimensional rendition of his signature "Equestrian" series, Matsuyama redefines the equestrian statue, historically depicted as imposing and dignified, in his characteristic color palette. The edition also features a unique round pedestal that sways back and forth, adding a whimsical element of movement to the piece. This release commemorates the very first collaboration between Matsuyama and ARR, which has collaborated with many world-class artists such as KAWS

"Tomokazu Matsuyama: HK Drop" is the artist's third major project in Hong Kong, following "Sky Is The Limit", the artist's 2014 installation and exhibition of larger-than-life sculptures at Harbor City, and "Oh Magic Night", his 2017 solo exhibition at HOCA Foundation. In 2020-21, Matsuyama gained the attention of Chinese art fans as the first Japanese artist to hold a major traveling solo exhibition at The Long Museum in Shanghai and Chongqing. Although global issues like the pandemic and conflicts continue to threaten our lives, humanity continues to strive toward a new era, be it through technological innovation or through personal connections on a micro level. In this chaotic world, Matsuyama says, "I feel that many people are beginning to seek hope in art." We invite you to be a part of Matsuyama's newest artistic exploration, which he will showcase to the world from the place that he calls his second home, Hong Kong.

ARTSY Benefit Auction to Asian American Art Alliance
May 2022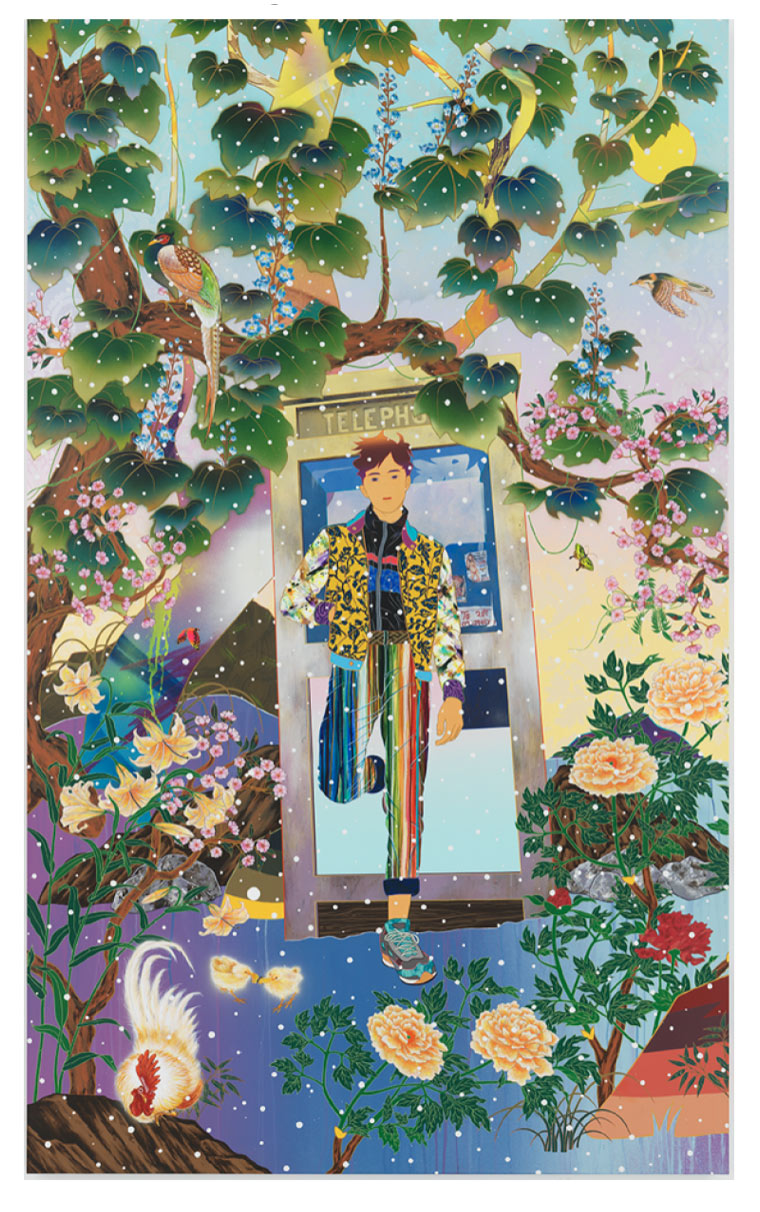 Tomokazu Matsuyama, Another Believer, 2021

New York, NY, May 12, 2022 – Artsy, the leading global online art marketplace, announced today the launch of the auction "Tomokazu Matsuyama for the Asian American Arts Alliance." Heldexclusively on Artsy from May 12th through 26th, the single-lot auction features a recently completedpainting by Tomokazu Matsuyama, Another Believer (2021), from his "Fictional Landscapes" series.

Proceeds from the auction will benefit the Asian American Arts Alliance (A4), which is dedicated to strengthening Asian American artists and cultural groups through resource sharing, promotion, and community building.

The artwork by Matsuyama takes inspiration from diverse cultures—including Pop art, Abstract Expressionism, and Japanese art from the Edo and Meiji eras—as well as consumer commodities and contemporary advertising. Another Believer is a preeminent example of the artist's incorporation ofhistorical Eastern and Western art principles which echo his own bicultural background, as Matsuyamagrew up living between Japan and the United States. Another Believer is perhaps the most important painting by the artist to be presented at auction.

Commenting on the auction, artist Tomokazu Matsuyama said: "The art world is beginning to evolve but Asian art still needs a stronger voice. I want to amplify our voices through this benefit auction, and give back to an organization that's dedicated to strengthening Asian American artists and cultural groups. "

Gallerist Kotaro Nukaga commented: "We're pleased to partner with Artsy on the auction of Tomokazu Matsuyama's Another Believer. As the leading global online art marketplace, Artsy shares our core values of progressing, diversifying, and democratizing the art world."

Artsy's VP of Auctions, Shlomi Rabi, said: "At Artsy, we're constantly working towards a more inclusive art world, and it's our responsibility to further advocate for those incredibly talented artists who deserve our attention and are leading the way in the industry for their talent as much as their social activism. We're honored to spotlight Tomokazu Matsuyama through this collaboration, and auction off his work to raise funds for the Asian American Arts Alliance."

Lisa J. Gold, Executive Director of the Asian American Arts Alliance, commented: "A4 is honored to be selected as the recipient of proceeds from the auction of Tomokazu Matsuyama's work. His support of other AAPI artists is such a lovely example of what our organization strives for—to create opportunities for AAPI artists and to strengthen our community by giving back."

Coinciding with the auction, Artsy has also partnered with StandardVision on a digital outdoor billboard in downtown Los Angeles, featuring Matsuyama's Another Believer, to further amplify the reach of this auction and support of the Asian American arts community.

# # #

MORE INFORMATION

About Artsy

Artsy is the largest global online marketplace for discovering, buying, and selling fine art by leading artists. Artsy connects 4,000+ galleries, auction houses, art fairs, and institutions from 100+ countries

with more than 2 million global art collectors and art lovers across 190+ countries. Artsy makes purchasing art welcoming, transparent and low-friction with industry-leading technology thatconnects supply and demand safely and securely at a global scale. Launched in 2012, Artsy is headquartered in New York City with offices in London and Berlin.

About Tomokazu Matsuyama

Tomokazu Matsuyama (1976, Born in Gifu, Based in New York) moved to the United States in 2002, after graduating from Sophia University. He received his MFA in Communications Design from the Pratt Institute, New York. Matsuyama's works include painting, sculpture as well as public art installation and respond to his own bi-cultural experience of growing up between Japan and America by bringing together aspects of both Eastern and Western aesthetic systems and reflect the changing modern society in the informatization. Numerous exhibitions have been held in major cities in the United States such as New York, Washington DC, San Francisco, Los Angeles,Tokyo, Dubai, Shanghai,Hong Kong, Taipei, Luxemburg, and other galleries, museums, and university facilities around the world. His works are in the permanent collections of LACMA, Asian Art Museum in San Francisco, Long Museum in China, the Royal Family, Bank of Sharjah Collection, Dubai, UAE, Microsoft Collection and more.

About Kotaro Nukaga Gallery

Founded in Tokyo in 2018, KOTARO NUKAGA acknowledges that contemporary art best reflects present-day society and its future. Taking particular interest in the avant-garde forefront of global art, exhibitions at KOTARO NUKAGA explore radical ideas of both Japanese and international artists. Now with two spaces in Tokyo— Roppongi, a cultural hub bustling with new ideas, and Tennoz, a location that is currently gaining traction as Tokyo's new center of contemporary art— KOTARO NUKAGA continues to establish its name through the expansion and development of its distinctive gallery program.

About Asian American Arts Alliance

The Asian American Arts Alliance is a nonprofit organization dedicated to ensuring greater representation, equity, and opportunities for Asian American artists and cultural organizations through resource sharing, promotion, and community building.

Media Contacts

Artsy's Global Head of PR & Communications:
Simon Guy Warren / simon.warren@artsy.net / +1646 462 6774
PR Agency: Jonesworks / teamartsy@jonesworks.com
The Pulse of Modernity Powerlong Museum Shanhai, China
May 2022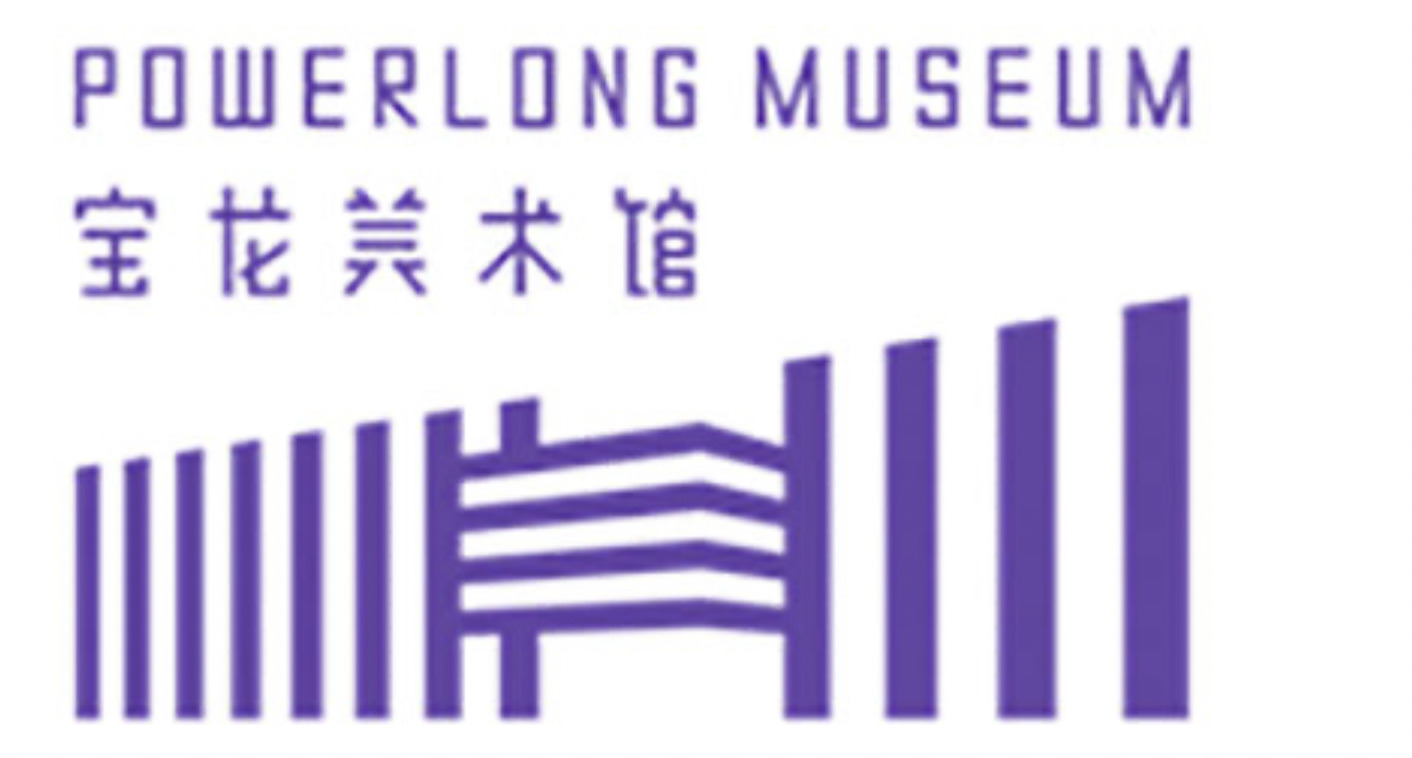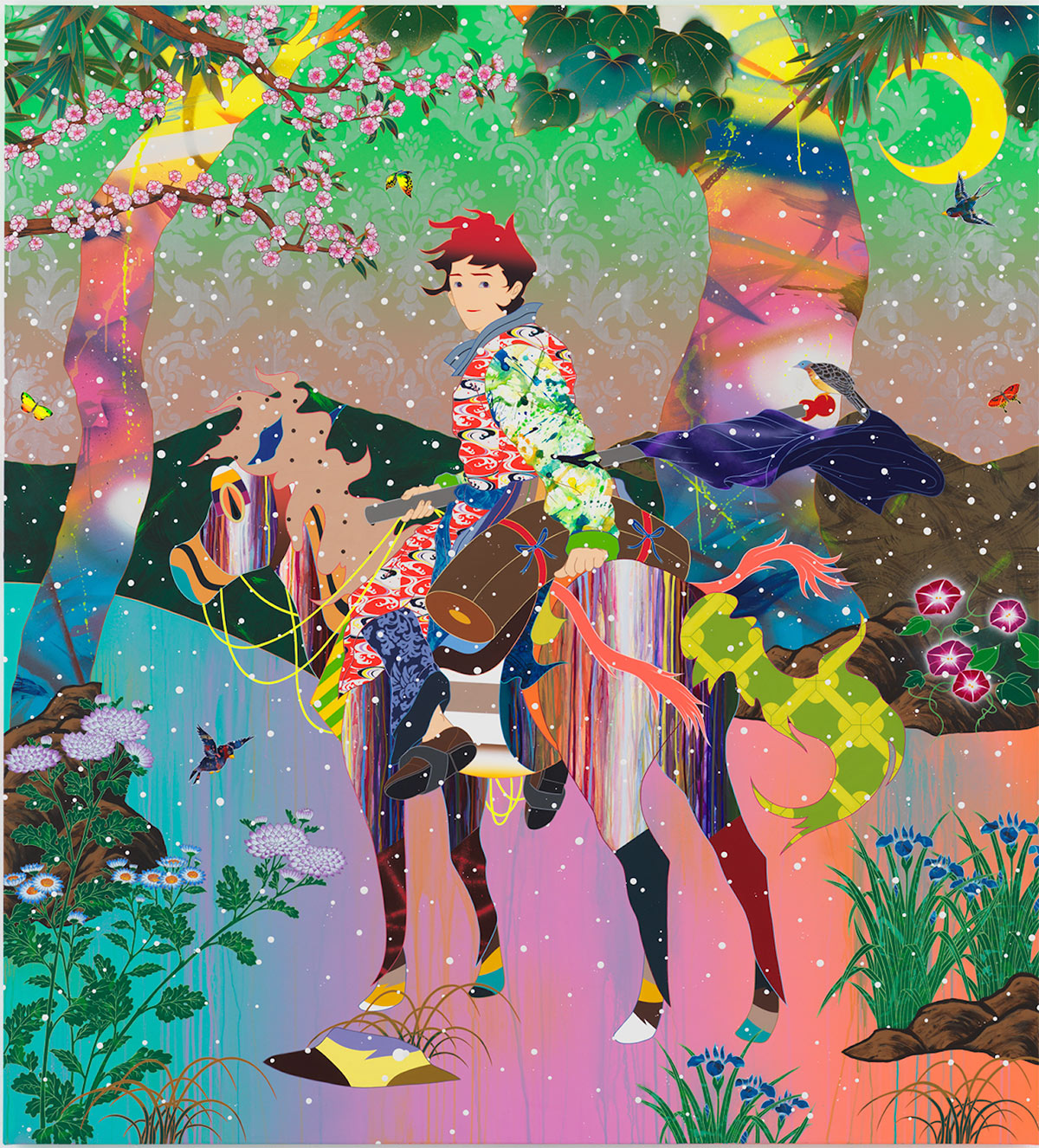 Tomokazu Matsuyama Studio is pleased to announce his presentation at the art exhibition in Shanghi, China from Sep 19th 2021 - May 18th, 2022 .

EXHIBITION DETAILS

ARTISTS: Tomokazu Matsuyama, George Condo, Antony Gormley, Vincent Manansala, Takashi Murakami, and more.
Room: 8

Location
Address: 3055 Caobao Road (near Xinzhen Road), Minhang District, Shanghai

Official Website
Email: service@powerlong.com

Contact
http://www.powerlongmuseum.com/
TEAF
May 2022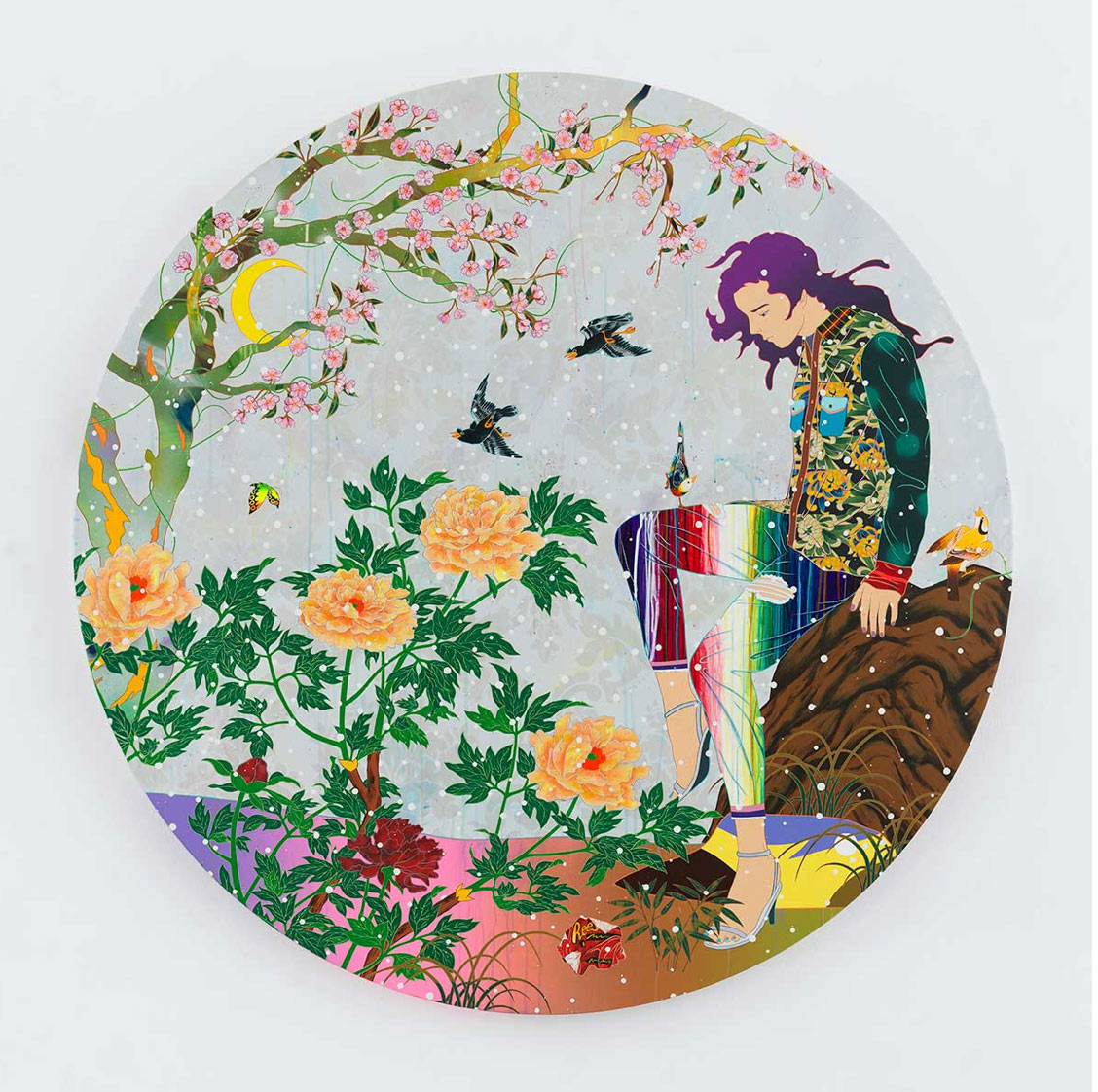 Tomokazu Matsuyama Studio is pleased to announce his presentation at the art fair TEFAF 2022 with Almin Rech Gallery in New York from May 6th - May 10th. On the occasion of the TEFAF New York 2022, Almine Rech proposes a group exhibition featuring the gallery's long- and newly-represented artists of different generations and multiple horizons, geographic as much as stylistic.

EXHIBITION DETAILS

ARTISTS: Tomokazu Matsuyama, George Condo, Gunther Forg, Lucio Fontana, Jorge Galindo, Michael Hilsman, Minjung Kim, Pablo Picasso, Kenny Scharf, Claire Tabouret, De Wain Valentine, Ouattara Watts, Tom Wesselmann, Chloe Wise, Ji Xin and Zio Ziegler.
BOOTH: 322


VIP Preview
May 5, (Thu) 13:00-- 20:00 ( By invitation only)

Public Open
May 6, (Fri) 12:00-20:00
May 7, (Sat) 12:00-20:00
May 8, (Sun) 12:00-18:00
May 9, (Mon) 12:00-20:00
May 10, (Tue) 12:00-18:00

Location
Park Avenue Armory
643 Park Avenue
New York NY 10065 USA
Official Website
https://www.tefaf.com/fairs/tefaf-new-york-spring/visit

Contact
Almin Rech Gallery
www.alminerech.com
inquiries@alminerech.com
"Clocks Daylight Jump" EDITION RELEASE Avant Arte
March, 2022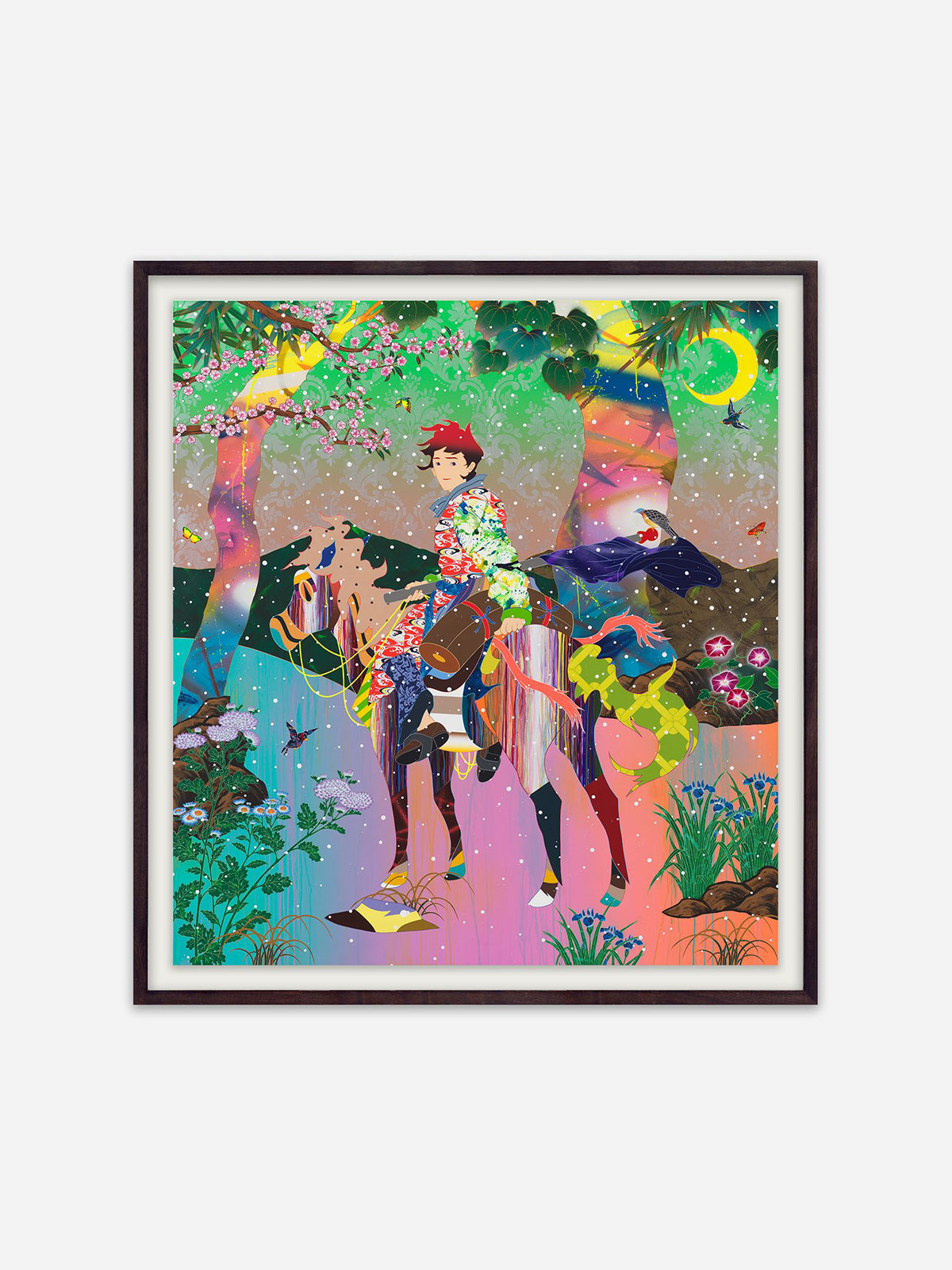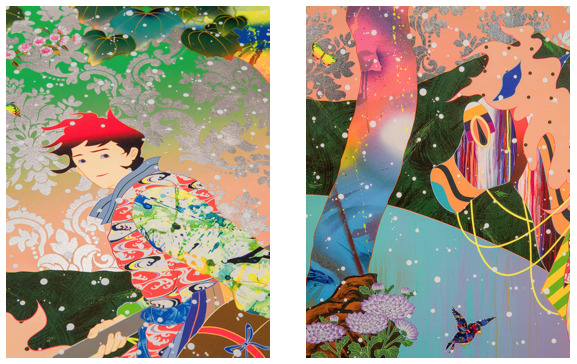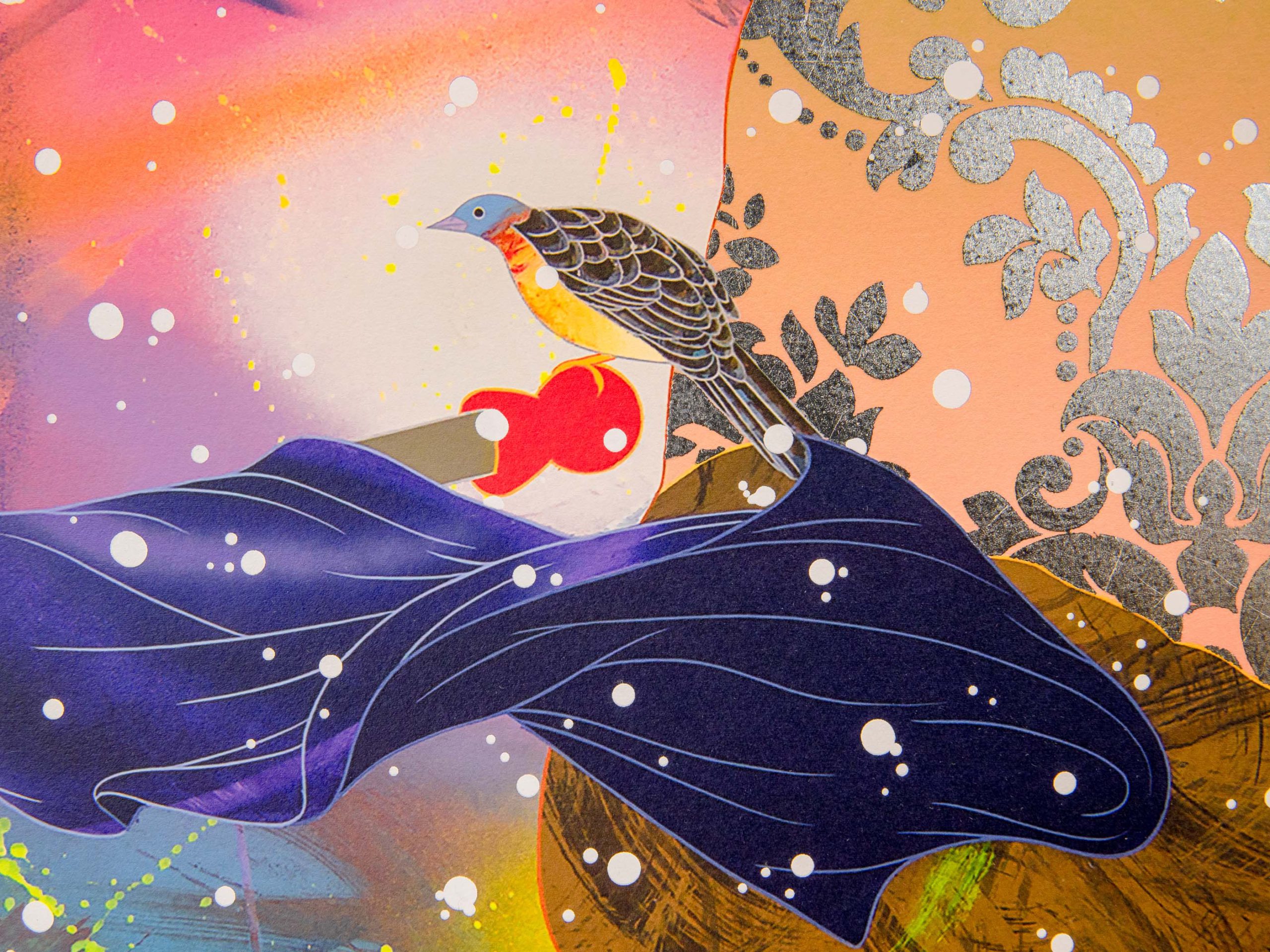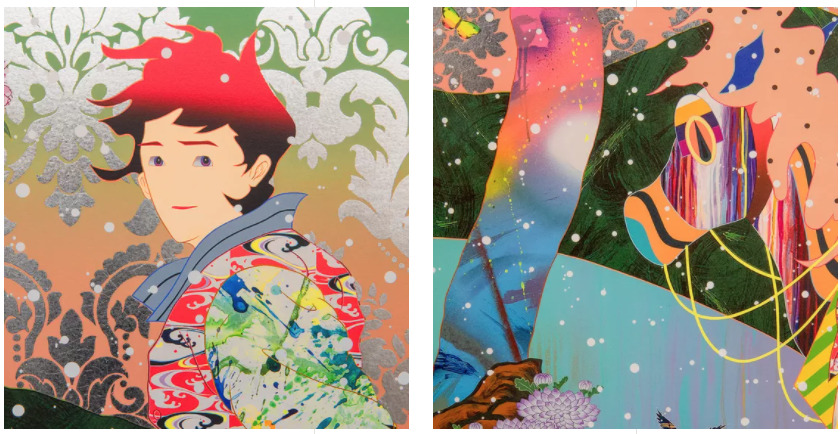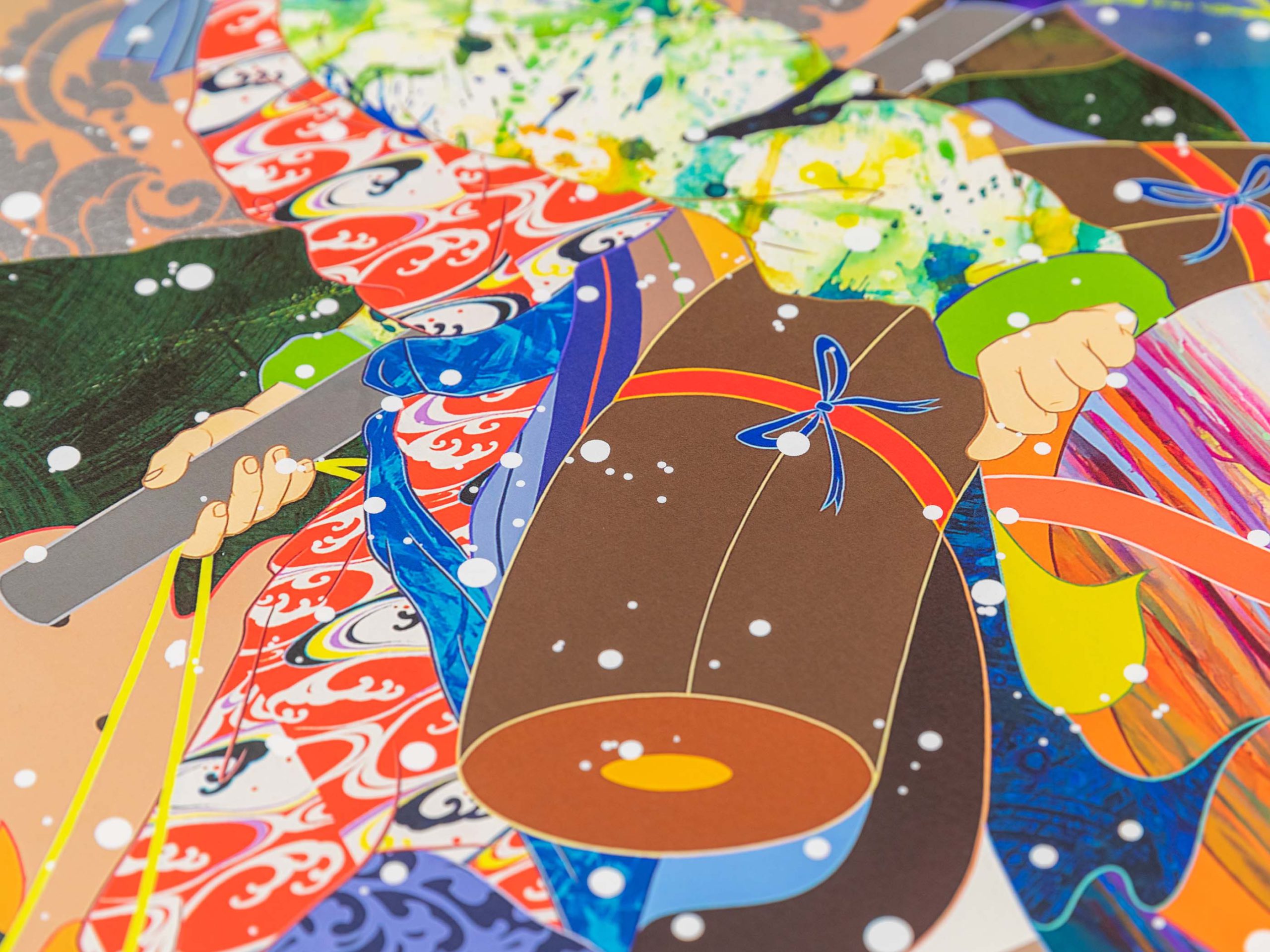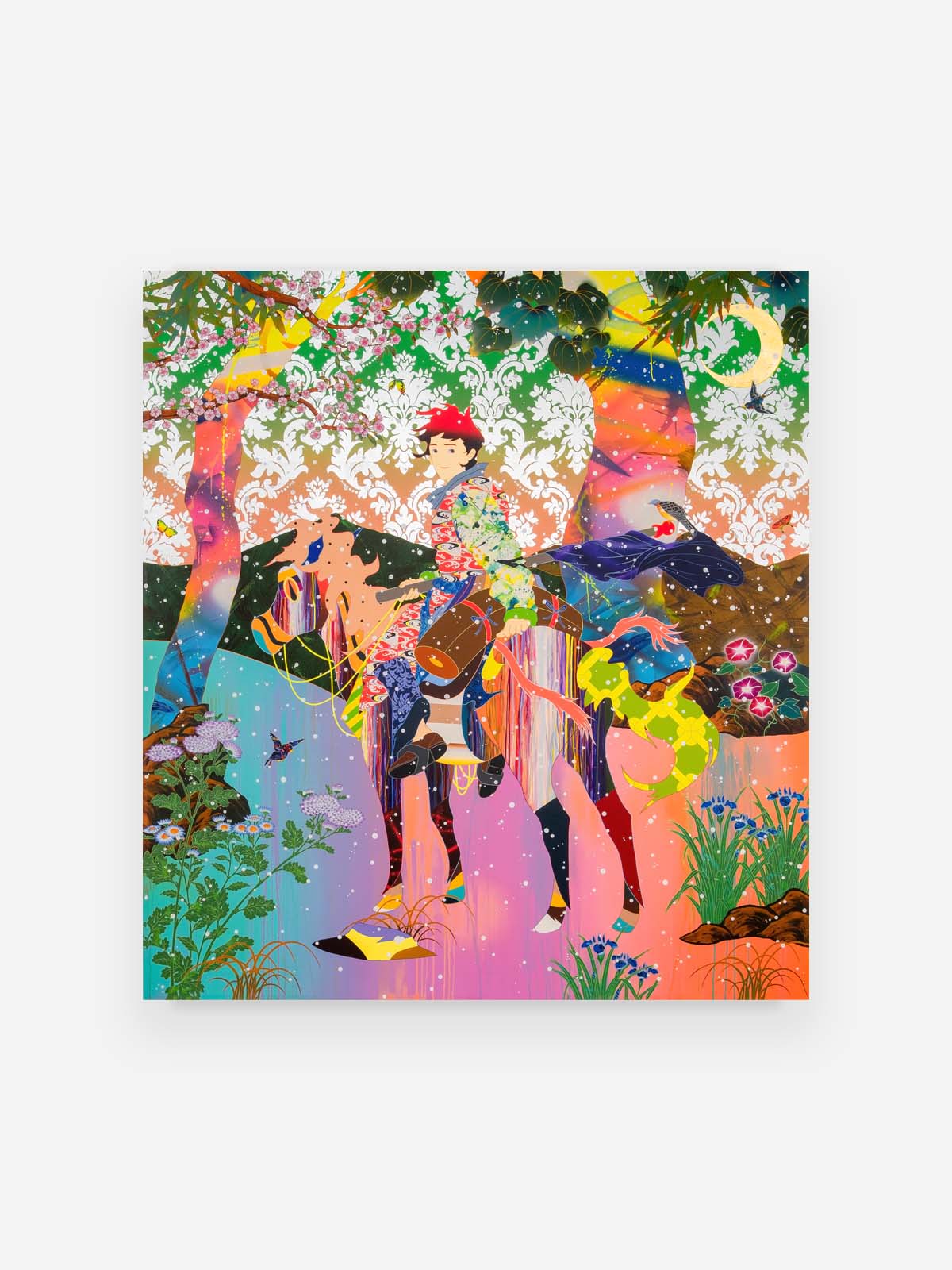 Tomokazu Matsuyama Studio is pleased to announce the official release of Clocks Daylight Jump print edition in collaboration with Avant Arte. The edition of 100 is available via a random draw, which is now open. All prints are the original painting is one of Matsuyama's running series.
https://avantarte.com/products/clocks-daylight-jump
Clocks Daylight Jump
100 editions
Framed: 39.0in x 1.6in x 35.8in
Medium: Digital print with intricate screen print layers and hand-applied gold and silver leaf details on 505gsm Somerset Enhanced Satin paper – finished with high gloss varnish.

Draw: This random draw will close 14:00 GMT March 16th, 2022 and winner will be contracted by email shortly after.
Rebroadcasting DESIGN TALKS Plus "Public Art" NHK BS1
March, 16th, 2022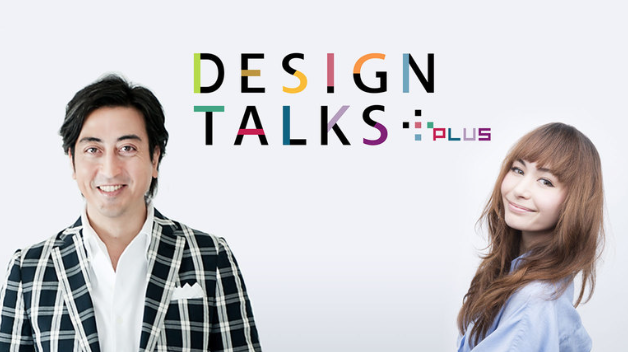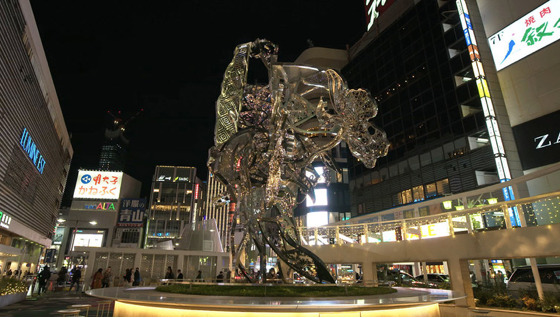 Tomokazu Matsuyama was interviewed for the TV broadcast, DESIGN TALKS PLUS from Japan's international broadcast channel, NHK WORLD. The DESIGN TALKS Plus explores Japanese world-renowned design traditions from various perspectives from around the world.
The upcoming program will feature the significance and potential of public art through an examination of Tomokazu Matsuyama's works.

▪️Broadcast Channel:NHK WORLD
▪️Program title: DESIGN TALKS PLUS "Public Art"

【How to Watch】
▪️On-demand Broadcast
You can watch the on-demand broadcast anytime from the official website's link below
https://www3.nhk.or.jp/nhkworld/en/ondemand/video/2046164/ 
Inauguration Group Show
March, 16th, 2022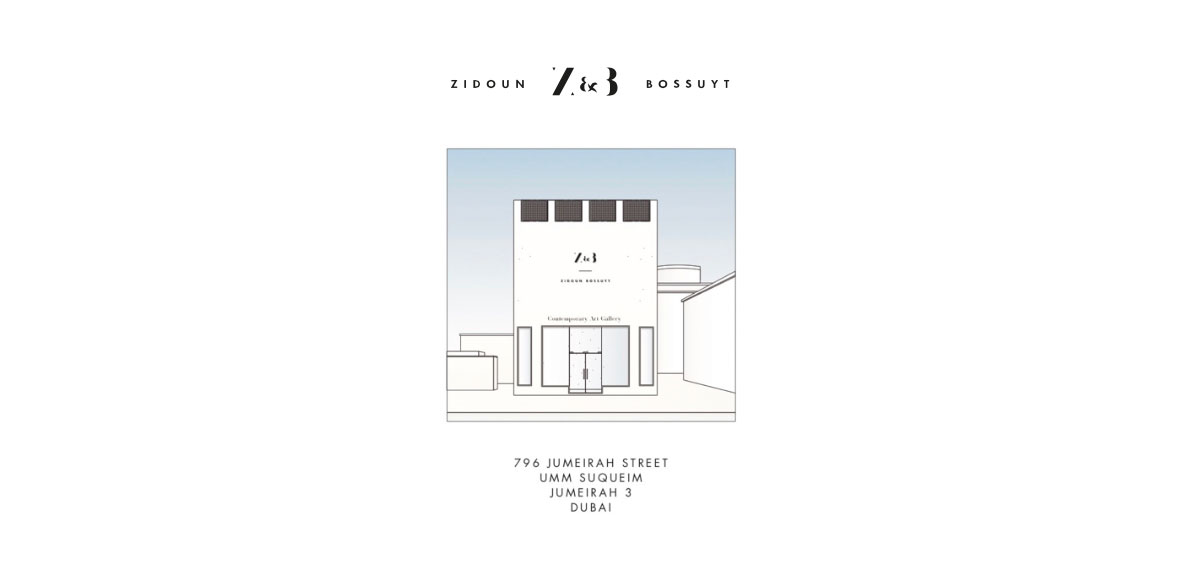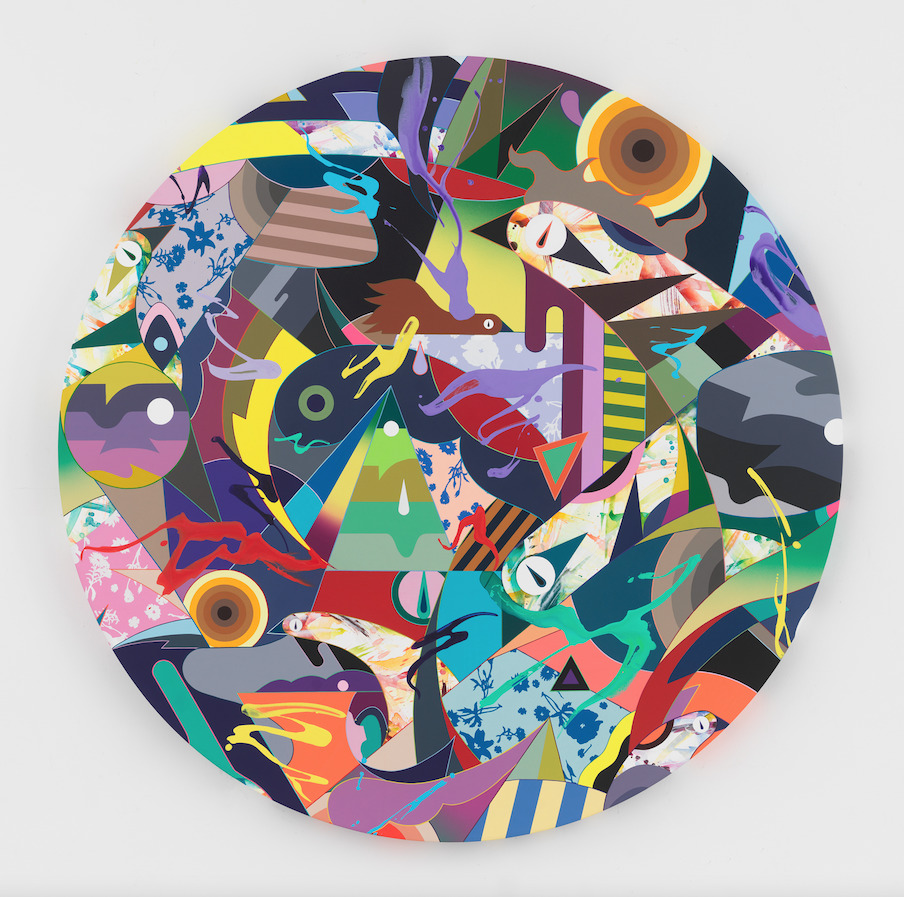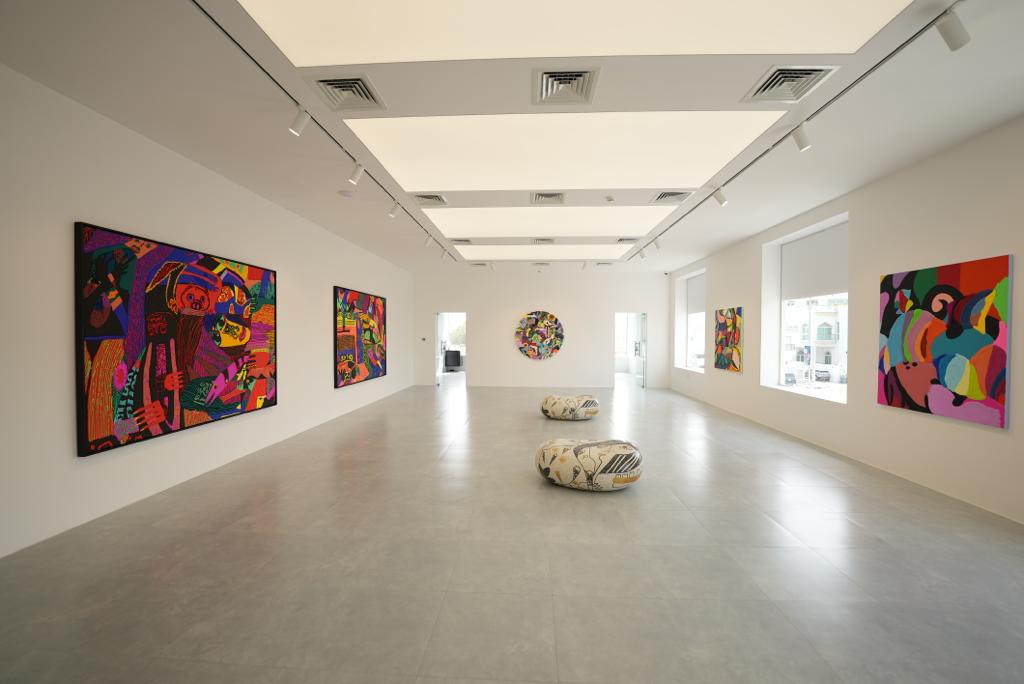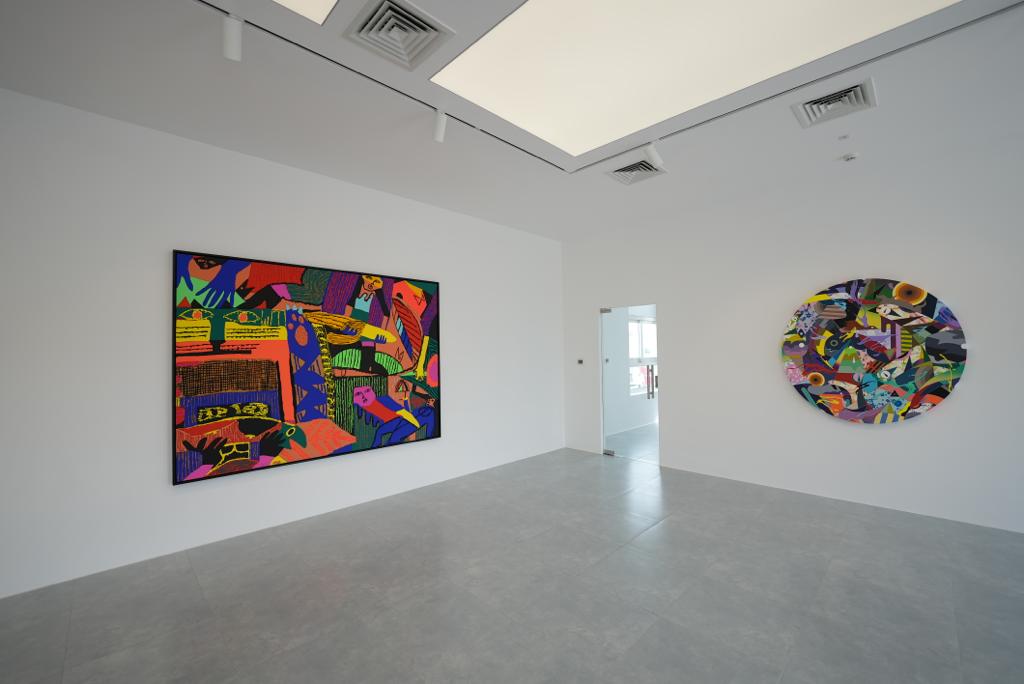 Tomokazu Matsuyama Studio is pleased to announce the group show at Zidoun-Bossuyt Gallery in opening a new gallery in Dubai from March 8th -April 23rd, 2022. To celebrate the opening, Zidoun-Bossuyt Gallery is showing works by artists from different generations and cultures, reflecting its diverse program, such as Noel W. Anderson, Martine Feipel & Jean Bechameil, Louis Granet, Yashua Klos, John Madu, Jeff Sonhouse Summer Wheat and Tomokazu Matsuyama among others.The group show will feature Tomokazu Matsuyama's latest paintings, Instant Pleasure Hope (2022).

GROUP SHOW PERIOD
March 8th -April 23rd, 2022

LOCATION
796 Jumeirah St - Umm Suqeim - Jumeirah 3 - Dubai - United Arab Emirates

OFFICIAL WEBSITE
https://zidoun-bossuyt.com

INQUIRY
contact@zidoun-bossuyt.com
In conjunction, Tomokazu Matsuyama's The Test Pioneers Sky (2022) will be shown at the art fair, ART DUBAI 2022 at Zidoun-Bossuyt Gallery's booth C11 from March 9th to March 13th 2022. If you find yourself in DUBAI, please come to see his latest works at Zidoun-Bossuyt Gallery and ART DUBAI 2022.

PRESS / VIP PREVIEW
Wednesday 9 March, 2 - 9 pm
Thursday 10 March, 2 - 9 pm

PUBLIC OPENING
Friday 11 March, 2 - 9 pm
Saturday 12 March, 2 - 9 pm
Sunday 13 March, 12 - 6 pm

LOCATION
Madinat Jumeirah Conference & Events Centre

BOOTH: C11

OFFICIAL WEBSITE
https://www.artdubai.ae/gallery/zidoun-bossuyt-gallery-2022/
DVD RELEASE Sunday Art Museum Cluster 2020~Battle of NY artist Tomokazu Matsuyama NHK EDUCATIONAL
February,2022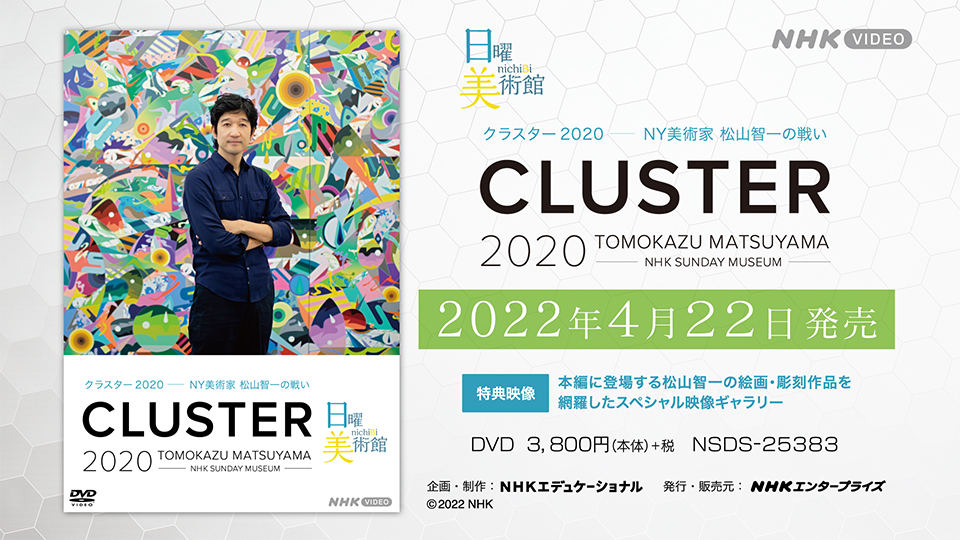 DVD RELEASE

Sunday Art Museum
Cluster 2020~Battle of NY artist Tomokazu Matsuyama
NHK EDUCATIONAL


Tomokazu Matsuyama Studio is pleased to announce his documentary DVD, CLUSTER 2020 will release on April 22th, 2022 from Japan's longest-running art tv program Nichiyo Bijutsukan (Sunday Art Museum) by NHK Educational. NHK Japan film crews followed Matsuyama for over 300 days during 2020 as he traveled internationally throughout the coronavirus pandemic undertaking various exhibitions and public art projects.


▪️Director: Toshimoto Uchida
▪️Narration: Yukiko Shibata
▪️Bonus footage: A special video gallery that covers Tomokazu Matsuyama's paintings and sculptures.
▪️Broadcast channel: NHK EDUCATIONAL
▪️Program title: SUNDAY ART MUSEUM
▪️DVD pre-order is now open in the link below.
 https://www.nhk-ep.com/products/detail/h25383A1
Artist Collaboration CD Cover Singer Duo: Yuzu PEOPLE
February,2022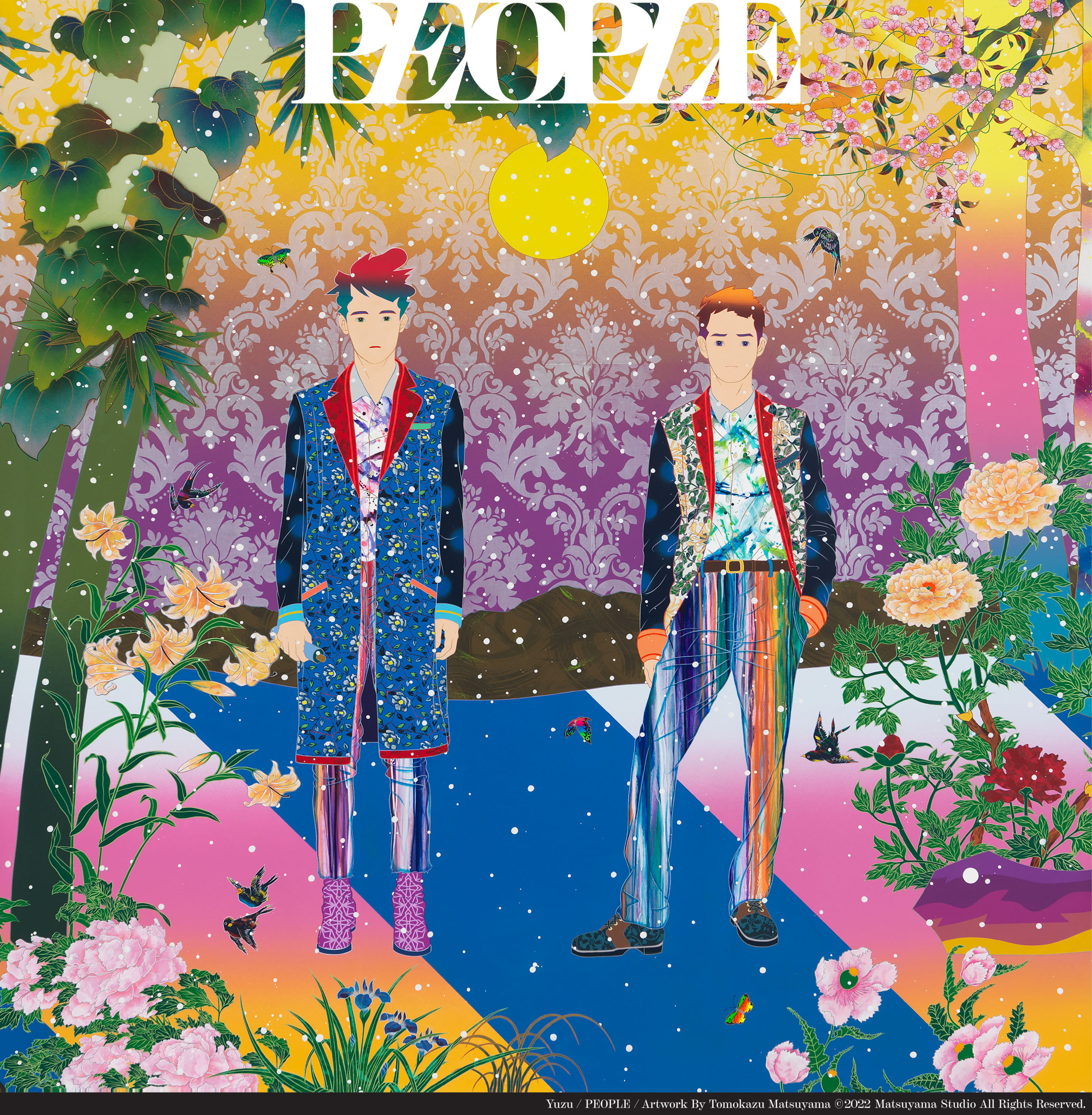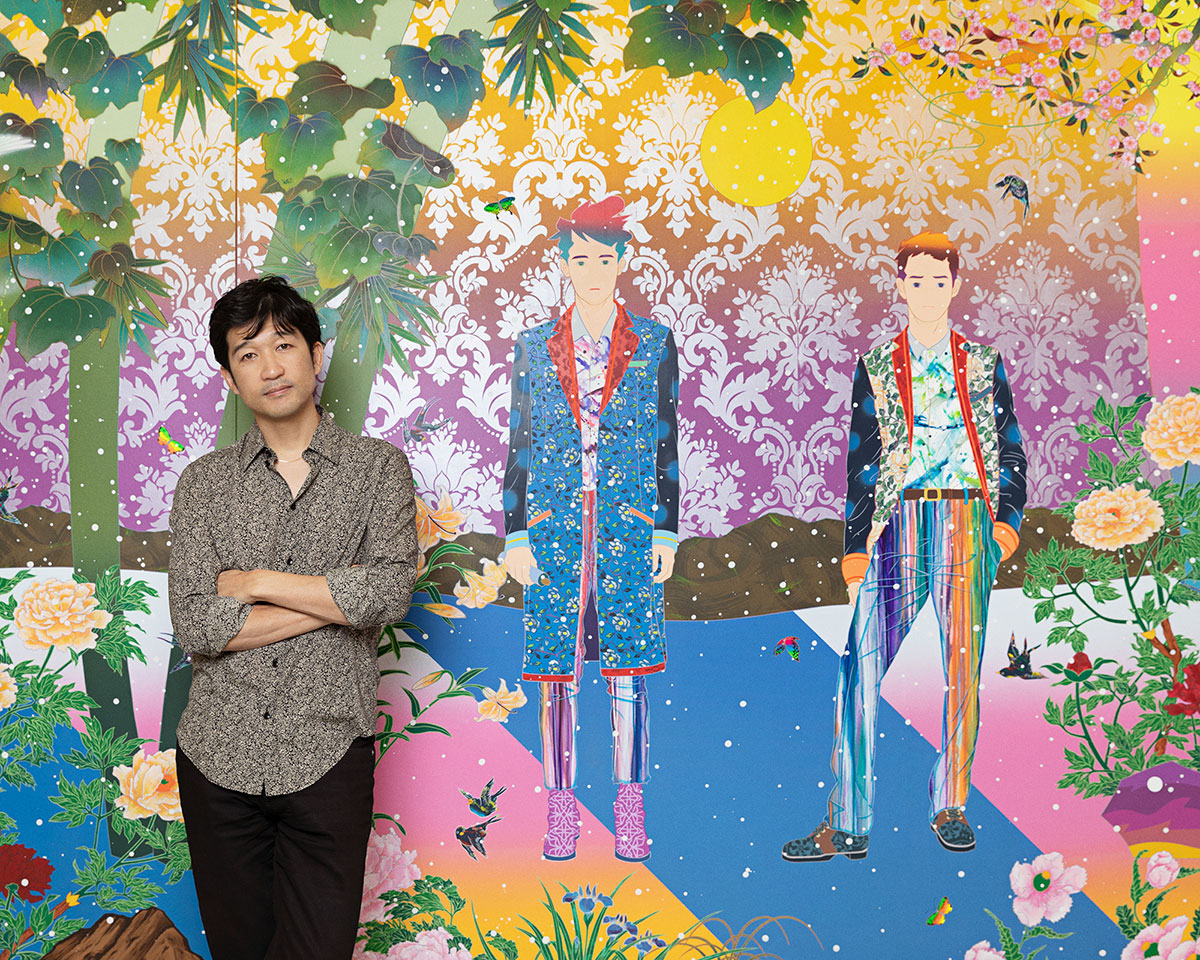 Tomokazu Matsuyama Studio is pleased to announce his collaboration with Japanese singer duo "Yuzu" for their 25th anniversary album cover.
From the streets becoming one of the most celebrated musicians in the Japanese music scene, Yuzu will release their new album "PEOPLE" on Wednesday March 23. (Japan time)

Yuzu had collaborated with various contemporary artists such as Takashi Murakami and Kohei Nawa in the past.
This year, which will be their 25th anniversary year, Yuzu will collaborate with Tomokazu Matsuyama.

The Best Part About Us
February 01, 2022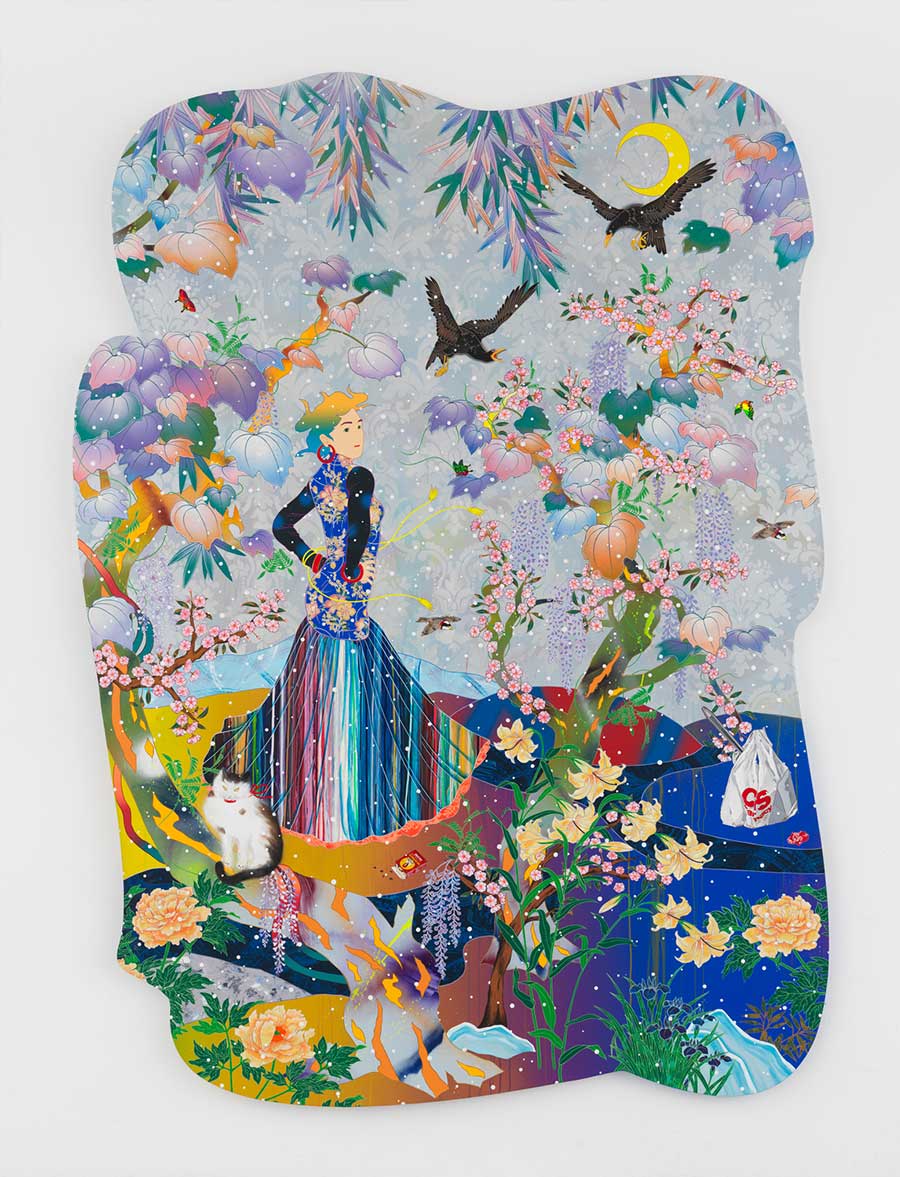 Tomokazu Matsuyama Studio is pleased to announce his solo exhibition, The Best Part About Us, which will present his new paintings and sculptures from February 5th to March 19th, 2022 at Kavi Gupta in Chicago.

The exhibition comes on the heels of the Matsuyama's landmark solo exhibitions at two of China's largest and most influential private museums, Long Museum Shanghai and Long Museum Chongqing.
As with those exhibitions, the visual language Matsuyama deploys in the works in "The Best Part About Us" reflects the experiences of today's nomadic diaspora—a global, intercultural community of wandering people who seek to understand their place in a world full of contrasting visual and cultural dialects.

Solo
Solo Exhibition :The Best Part About Us
Chicago, USA

EXHIBITION PERIOD ( Appointment Only )
Saturday, Feb 5th - Saturday, March 19th, 2022

COVID19 ANNOUNCEMENT
In consideration of ongoing COVID-19 restrictions, viewing of the solo exhibitions at 219 N Elizabeth St. will be open by Special Appointment Only, as we attempt to mitigate this newest outbreak. Masks and social distancing will be required, and temperatures will be taken prior to entry. Special Appointments must be email at info@kavigupta.com or call (312) 432-0708. Voice messages will be checked periodically.

LOCATION
219 N. Elizabeth St., Chicago, IL
Kavi Gupta
https://kavigupta.com